The first CASI course is so soon!
It's time to get ready.
How, you ask?

Getting smart means getting ready for the teaching component of your course in advance.

The first step is to pick your goals: Level 2? Park 1? Level 4?

Next, download the course materials from the CASI website and start studying. How should you study?

The first thing is to identify your learning style: are you a visual learner? Analytical? Experiential?

If you're a visual learner, consider drawing a snowboard teaching-mind map.
Start with your

lesson goal

Next, for each of the

competencies

, think of teaching scenario (e.g., not enough mobility, trouble turning with the lower joints, difficulty holding an edge, etc) 

Next, choose the

skill

or component to improve

And finally follow that with a short list of

tactics

.



Using all these pieces, write out a lesson plan based on your chosen Method of Presentation. Include a clear What, Why, and How and refer back to the lesson goal. 

Find our free downloadable snowboard-teaching mind map here.

If you're an analytical learner, write, write, write. Better yet, build a spreadsheet to organize your lesson plans. 

If you're an experiential learner, set up a video camera and record yourself delivering lessons. 

No matter your learning style, practice makes perfect and preparation makes the difference between confidence and worry.

After an enormous crash that could have sent him to the hospital, Marc McMorris said in a video, "This is why I go to the gym. It's not because I like the gym, it's because I love to snowboard."

While you might not take the same impacts as Marc, snowboarding is still a physical sport. Getting strong can go a long way in preventing injuries.

Getting strong means training both mentally and physically for the season.

To learn more about mental strength, read Adam Gardner's, Level 4 Evaluator and AB BC-E Regional Coordinator, article on the CASI blog: Get Tough! Training for Mental Toughness.

To learn more about physical strength, check out former Alberta Regional Coordinator John Smit's article on the CASI blog: Standing Sideways Demands Training Sideways!

This is key to keeping your motivation high while writing your lesson plans, taking that cold shower, or pushing through that final set of side planks.

Watch videos, listen to podcasts, learn industry news, take a walk around your local resort and visualize the season ahead.
If you've read all this and don't know what CASI is, then check out our article What is CASI-ACMS?!

Thanks for reading and see you on the snow!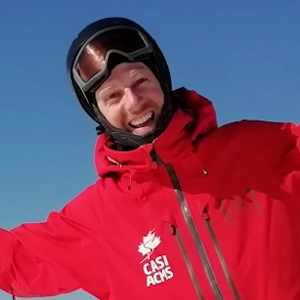 Graham Sinclair

Level 2 & Park 1 Evaluator
SBT Founder